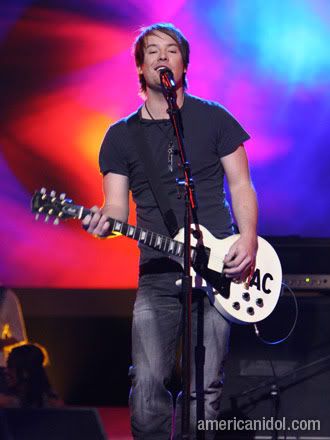 American Idol contestant David Cook has been seen with the intials 'AC' on his guitar. No, it's not the first half of AC/DC - it's a tribute to his brother Adam, who is currently fighting brain cancer a second time 'round.
Adam was first diagnosed with brain cancer in 1998 and successfully fought it off. Now, however, it's back with a vengeance and, according to reports, it has spread down to his spine. Adam almost couldn't make it to see his brother's performance on American Idol the week of April 14th after his doctor's said he couldn't fly commercially, but his community pitched in and got him the money for a medical jet, a nurse and medic on the flight, and a stay in the hotel across from where
Idol
films.
This blog is about personal connections to important causes and this can't get any closer. This is one Soul Patroler who has joined the campaign to see this young and talented musician, David Cook, take home the grand prize -- to be THE American Idol of 2008.
If you want to help David and his brother Adam join the fight against brain cancer - or any cancer, for that matter -- check out the American Cancer Society's website and donate in honor of Adam Cook by clicking
here
. Every dollar you donate goes to research to fight brain cancer.
Don't forget to vote for David this Tuesday on American Idol as well!