They volunteer for
Big Brothers/Big Sisters
: "CSI: NY" fans know
Hill Harper
as Dr. Sheldon Hawkes, reclusive coroner who walked away from a promising surgical career after the traumatic loss of two patients. Harper is also has been a Big Brother for eight years, who graduated from Brown University and earned his law degree and master's in public administration from Harvard. When not appearing on TV or on stage, Hill volunteers at BBBS of Los Angeles and the Inland Empire and is speaking in schools and community centers throughout the country about mentoring as the way to help young men realize their dreams. He shared his concern for troubled boys who are failing and the positive effects of having role models in his recent appearance on Oprah. "Mentoring is the key," Harper emphasized. "…If a young man has a positive male role model in his life, his chances for success and his education achievement far outweigh those that don't."
Troy Aikman
, the star of the NFL's Dallas Cowboys in the '90s, is helping to attract more mentors to Big Brothers Big Sisters program. Troy remembers how important his mentor was as a child, so today, he's starring in a new public service announcement, or PSA, for Big Brothers Big Sisters.
Angela Park
LPGA will donate a portion of her winnings to Big Brothers Big Sisters, and will also meet with children from local Big Brothers Big Sisters agencies at various stops along the LPGA Tour. Park will also host her own golf clinics and be featured at Big Brothers Big Sisters events and in their public service advertisements throughout the season.
The Judges Are Serving Time...
doing good things. Do you watch the judges on television?
Judge Glenda Hatchett
serves as national spokesperson for
CASA (Court Appointed Special Advocates)
, a non-profit volunteer organization that trains volunteers to represent abused and neglected children and help them navigate the court system.
Judge David Young
sits on the board of both the
Miami-Dade Humane Society
and was just named to the honorary board of the
Gay American Heroes Foundation
.
Judge Maria Lopez
sits on the board of the
Cuban Artist Fund
based in New York City.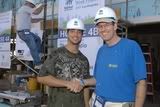 Sports Stars are Donating Time and Money:
Milwaukee Brewer and 2007 Rookie of the Year Ryan Braun pledged his $10,000 Rookie of the Year bonus money to
Habitat for Humanity
! (In this day and age of huge sportssalaries, this is cool. -- lisa) "I knew I was a part of something special at the Jimmy Carter Work Project,and as I came to know the partner families and meet the other volunteers, I couldn't help wanting to do more," said Braun. "I am fortunate to make a living doing what I love and if I can help Habitat build more homes and change more lives, that is a greater gift than any bonus I could receive." Ryan Braun (L), Milwaukee Brewer & Honorary House Leader with Jonathan T.M. Reckford (R), CEO of Habitat for Humanity International at 2007 Jimmy Carter Work Project in Los Angeles
Hannah Teter
(pro snowboarder): Olympic gold medalist from the Green Mountain State of Vermont who's family makes their own brand of syrup for personal use. Following her gold medal performance at the 2006 Olympics, Hannah decided to bottle the family syrup, brand it
Hannah's Gold
, and form a partnership with World Vision to help underprivileged children in Africa.
Chris Paul
(NBA All-Star and BOWLER! (I'm a bowler too! -- Lisa): Born/raised in Winston-Salem, NC, Chris learned the valuable lessons of lending a hand and giving back to others from his late Grandfather/best friend. He hosts the "Chris Paul Winston-Salem Weekend" as the major fundraising initiative of his
CP3 Foundation
which is designed to give back to the Winston-Salem community. The inaugural weekend raised money to endow a scholarship in honor of his grandfather - Nathaniel Jones Scholarship Fund - which will send a student from Forsyth County (NC) to Wake Forest University and last year the CP3 Foundation sponsored a Habitat for Humanity House for the Jones Family of Winston-Salem. The 3rd Annual Chris Paul's Winston-Salem Weekend will take place Sept 19-21, 2008.
Ronnie Lott
(NFL Hall of Fame): Known throughout his playing career as a hard-hitting safety, Lott's post-career life has been nothing but full of love and opportunity. He founded
All Stars Helping Kids
in 1989 in an effort to provide children with the opportunity to be their own "star". Almost 20 years later, Lott and All Stars continue to make an impact on children across America.
Stay tuned...more coming on Monday! Let me know who your fave star is and I'll find out where they are volunteering their time!
Until next time,
lisa